Team Leaders
Austin Arenz
President
3rd Year Mechanical Engineering Student
Mark Wenzel
Chief Engineer
4th Year Mechanical Engineering Student
Brett Schnabelrauch
Chassis Team Lead
3rd Year Mechanical Engineering Student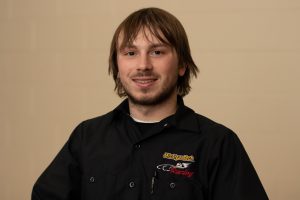 Zach Stanchina
Powertrain Team Lead
4th Year Mechanical Engineering Student
Patrick Gilland
Electrical & Controls Team Lead
4th Year Mechanical Engineering Student
Traven Thai
Composites Team Lead
4th Yeah Mechanical Engineering Student
Hunter Austin
Business Team Lead
4th Year Civil Engineering Major
SUBTEAMS
---
BUSINESS
Focus on marketing and promoting the team, creating and maintaining the budget, and managing competition documentation.
CHASSIS
Design, fabricate and test the chassis of the car.
COMPOSITES
Design and fabricate the ergonomics of the cockpit, body, and anything that has to do with carbon fiber and fiberglass.
ELECTRICAL AND CONTROLS
Design and fabricate the electrical system to power the car.
POWERTRAIN
Focus on adapting and developing an engine package for the purpose of racing.